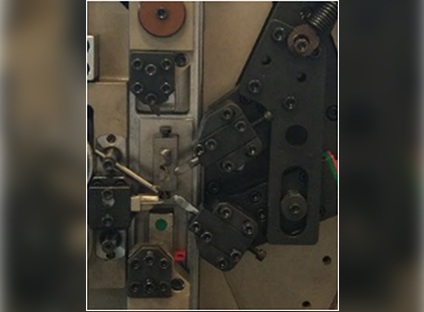 Outer diameter axis
With the German single-axis control mode technology, the two curve gauges advance and retreat at the same time. The whole machine adopts imported linear guide rails to ensure the precision of operation, reduce mechanical friction, easy to operate and reduce the frequency of faults.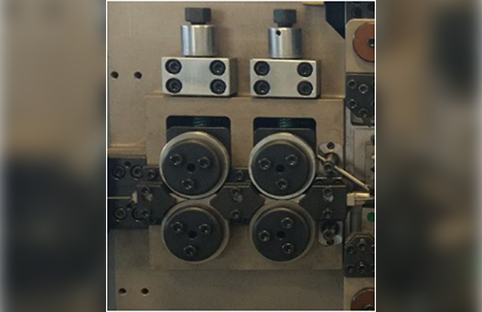 Cable box
The speed reducer is used to reduce the gear friction and ensure the stability of the transmission link.
Mandrel and cutter: It adopts servo and corner reducer to make the mandrel automatically lift or cut the straight line, changing the traditional pneumatic principle core pulling mode, and can adjust the position of the mandrel arbitrarily. The core bar cutter has an integrated structure, the cutter can be cut straight, and the upper and lower cutters are integrated into a plurality of cutter modes.
Reducer
Reducer: The motor and the reducer are tightly matched or disc-connected to ensure the motor transmission accuracy and avoid the impact of the motor. Guaranteed low speed and high speed products.
Multi-axis
Axis 1: Upper cutter Axis 2: Lower cutter Axis 3: Pitch Axis 4: Mandrel lift Axis 5: Mandrel in and out Shaft 6: Outer diameter axis 7: wire feeding axis
| | |
| --- | --- |
| MODEL | GK720 |
| Wire Dia. | 0.5-2.0MM |
| Max. wire feeding value | 10000.00MM |
| Min. wire feeding value | 0.01MM |
| Max. wire feeding speed | 100M/min |
| Max. wire feeding length | infinite |
| Axis number | 7 aixs |
| Total output power of servo motors | 7.95KW |
| Input power supply | 380V AC±10 38KW 3P 50HZ |
| Control system | Made in Taiwan |
| Program storage | 2000 Plus |
| Compressor air pressure | 5-6KG/Cm |
| Probe Number | 3 pcs |
| Overall length | 1350MM |
| Overall width | 800MM |
| Overall height | 1800MM |
| Net weight | 1000KGS |